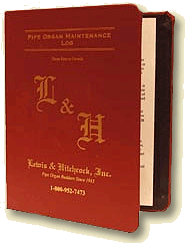 Lewis & Hitchcock, Inc. has provided first-class tuning and maintenance for pipe organs of all makes throughout the mid-Atlantic region since 1915. We have an experienced staff of trained technicians able to meet your every need at a moment's notice. The easiest way to reach us is through our toll-free number, 1-800-952-7473. Our main office is staffed every business day from 8 am to 4 pm. After hours and on weekends, our voice mail will give directions for how to reach our on-call technician.
Our service work is available in two broad categories, contract and non-contract. Most of our 300-plus customers prefer having a service contract as it both allows for better financial planing and provides a discount on emergency service work.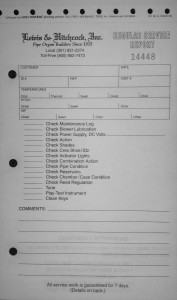 On a routine tuning and maintenance visit, we first respond to any notes that the organist may have left for us. While we thoroughly check an organ out during our visit, the organist may have noticed specific concerns which will help us to prioritize our time. We check the action, power supply, combination action, expression, indicator lights, pipe and chamber condition and winding. We make minor repairs and note any major repairs which may be required. We lubricate the blower, as needed. We tune the organ. We check the reeds for regulation and we test play the instrument. We even clean the keys!
We are fairly picky about tuning at the correct temperature. Changes in temperature and humidity affect the density of air, and hence affect the pitch of an organ. We ask that our customers set their thermostats for a tuning as they would for services or concerts. We want to provide the best service possible for our customers – and the correct temperature is essential!
Occasionally the tuning of a pipe may slip after a tuning or a minor problem may return, we will gladly revisit the instrument to correct any problems with our work providing that: we are notified within seven days of a visit, the item is within the scope of our contract, the item was listed as completed, the conditions are the same as at the time of the visit  and only our employees have been in the organ.