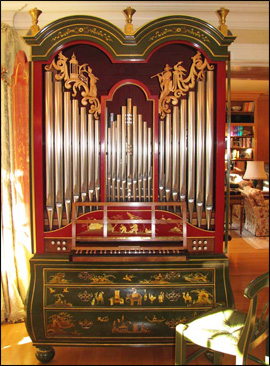 Residence of Stephen Simon
New York, NY - Organ moved by Lewis & Hitchcock, 2010
Stephen Simon owns a beautiful chamber organ made by Mander of London, England. The organ is pictured in their ads in the organ magazines. The design was suggested by a secretary cabinet.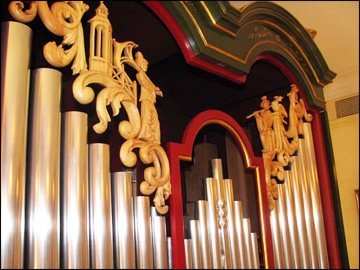 Here is a close-up of the carved pipe shades.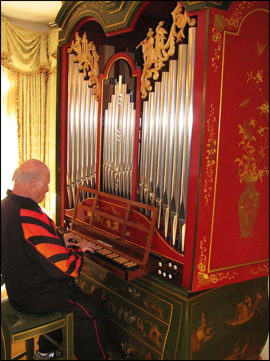 Mr. Simon demonstrating the organ for us.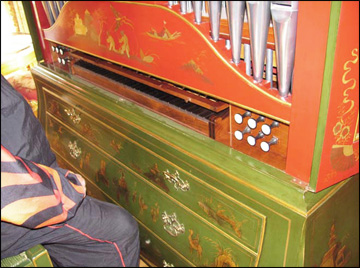 The music rack and keyboard slide into the casework, so that the cabinet doors may close.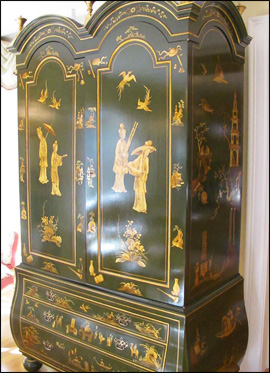 And here the cabinet is closed, and one might never imagine there was an organ inside.
The Simons were moving from their home in Washington, DC to an apartment in New York City and asked us to move the organ. The case would not fit in the elevator of the new apartment, so plans were made for the firm that was moving sculpture and other artwork to move and take those items into the apartment through a thirdfloor window.
In early January of 2010 we took the organ apart and removed the pipes and works to our factory for storage. The firm moving the artwork removed the case.
The case was delivered and taken into the apartment through the third-floor window between blizzards in February of 2010. After the blizzards, Tony Drummond drove our truck to the apartment, and with Richard Alford and Asher Hammond of our firm, got everything inside. Then Richard and Asher stayed to put it back together and then tune the organ. This very delicate work is one of the specialties of our firm.