While we're woefully behind in updating our website, some of our 2017 projects include:
a major rebuild of the three manual, thirty-five rank Moller at First Evangelical Lutheran Church, Chambersburg, PA (including releathering, console and relay upgrade, and tonal work); releathering at the Monastery of the Visitation, Rockville, VA, St. James Episcopal Church, Lewisburg, WV, and St. Paul Lutheran Church in Fayetteville, PA; rebuilding the console at Culpeper Baptist Church, Culpeper, VA; rebuilding the Swell wind chest at Evangelical Lutheran Church in Frederick, MD; and protecting several organs during construction projects.
(for examples of our previous work click here)
Evangelical Lutheran Church, Frederick, Maryland. We releathered eleven reservoirs in this large Moller organ. The organ supports an active music program and frequent recitals of internationally known organists.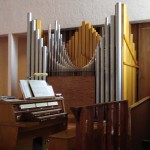 First Lutheran Church, Inverness, Florida.  We helped the church locate and obtain an appropriate used instrument. This Mudler-Hunter organ was built for Walter Reed Army Medical Center in Washington, DC. We removed and reconfigured the organ, then installed it in its new home.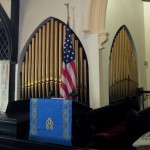 St. Luke Episcopal Church, Hot Springs, Virginia.  We rebuilt the console of this small Moller organ with a new solid state relay and combination action. We added a MIDI record and playback unit, recovered the Swell motors and made various repairs. Working with Walker Technical Company we augmented the pipework with several digital voices.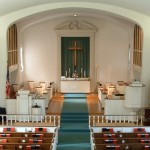 Good Shepherd United Methodist Church, Silver Spring, Maryland. We rebuilt the console of this Reuter Organ with a new solid state relay and combination action. We made a number of tonal changes, including the installation of a new 8′ Oboe.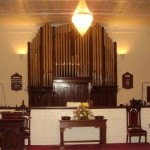 Strasburg Presbyterian Church, Strasburg, Virginia. Following a major fire, we removed the instrument from the building while repairs were being made. We meticulously cleaned soot from all components, reassembled and tested everything in our shop, then reinstalled the organ just in time for the congregation to return to their newly renovated building. Specification here.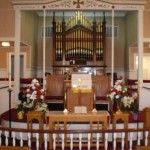 Union United Methodist Church, St. Michael's, Maryland.  We repaired this one manual Jardine & Son's instrument from the 1870's as the church celebrated its 160th anniversary. We made numerous repairs to damaged pipes, cleaned the organ and installed a new blower.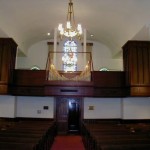 St. Stephen's Episcopal Church, Culpeper, Virginia. Following the earthquake of 2011 we removed the Casavant organ from the church so that structural repairs could be made to the balcony. The next year, following renovation, we reinstalled the organ and made miscellaneous repairs.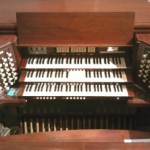 Bland Street United Methodist Church, Bluefield, West Virginia.  We sent a crew to spend a week with this Moller organ from the 1950's. We recovered console pneumatics, made pipe repairs as needed, fixed numerous dead notes, and corrected many voicing problems.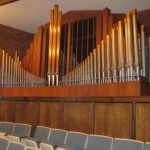 Kensington Chapel, Kensington, Maryland. In this major rebuild of a Moller organ from the 1970's we releathered all wind chests and reservoirs, rewired the instrument, installed a new solid state relay and rebuilt the console providing multiple levels of memory and MIDI capability.
We welcome the opportunity to discuss the organ needs of your congregation, whether maintenance, rebuild or new instrument.