Redeemer Lutheran Church, McLean

Möller Opus 11111, 1975
As installed, the organ sat on a base containing the blower. The Swell was the bottom portion, with the Great exposed on top of the Swell. The 8' Principal basses were behind the Great, and the Pedal Bourdon basses were exposed on each side of the casework.
The organ can be divided into two sections, Swell and Great, and be installed free standing or within a chamber.
The original installation stood in a space 48" (4') deep and 90" (7'6") wide. The swell shades are 92" (7'8") high. Originally the Great stood on top of the Swell, with the Great chest at the front (24" X 90") and the Great 8' Principal pipes behind. The top of 8' CC is roughly 12' from the floor of the Great.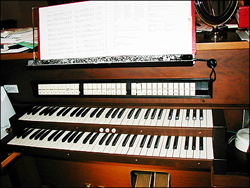 The Bourdon was on two chests on either side, each 38" X 10", and the longest pipe is a little over 10' long.
The prepared Chimes tab was changed to operate the 8' Trompette and a General Cancel piston has been added.
Great:
1.16' Bourdon  (61 pipes)
2. 8' Principal  (61 pipes)
8' Gedeckt  (12 pipes & #1)
8' Gemshorn  (from #5)
4' Octave  (12 pipes & #2)
4' Gedeckt  (12 pipes & #1)
2' Super Octave  (7 pipes & #2)
2' Flute  (7 pipes & #1)
3. 1 1/3' Mixture II-III  (134 pipes)
8′ Trompette
Tremolo
Swell to Great
Swell:
4. 8' Spitzflöte  (61 pipes)
5. 8' Gemshorn  (49 pipes, 1-12 from #4)
4' Spitzflöte  (12 pipes & #4)
2' Spitzflöte  (7 pipes & #4)
1 1/3' Larigot  (19 pipes & #5)
6. 16' Contre Trompette  (61 pipes)
8' Trompette  (12 pipes & #6)
4' Clarion  (12 pipes & #6)
Tremolo
Pedal:
16' Bourdon  (from #1)
8' Principal  (from #2)
8' Gedeckt  (from #1)
4' Octave  (from #2)
4' Spitzflöte  (from #4)
2' Mixture III  (from #'s 2 & 3)
16' Contre Trompette  (from #6)
8' Trompette  (from #6)
4' Clarion  (from #6)
Pistons:
Under Swell: General 1-3
Under Great: General Cancel
Toe Movements:
Sw/Cresc shoes
General 1-3