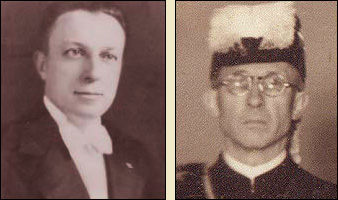 Theodore C. Lewis (left)
William I. Hitchcock (right)

Lewis & Hitchcock, Inc. was founded in 1915 by Theodore C. Lewis and William I. Hitchcock. They came to Washington in 1915 as installers of the new E.M. Skinner organ in the Bethlehem Chapel of the Washington Cathedral, which was the only finished portion of the Cathedral at that time. They decided they liked the area and stayed, eventually becoming the E.M. Skinner and then Æolian-Skinner representatives in the area.
Mr. Lewis was a voicer and Mr. Hitchcock had been the factory foreman and installation supervisor for Skinner. Thus they knew the Skinner organ and how to build a similar instrument without violating patents. All the early Lewis & Hitchcock organs were very much like Skinner instruments. In the 1950's they developed a new form of electro-pneumatic action that was used until Mr. Hitchcock's death in 1967. At that time the firm was purchased by George Payne,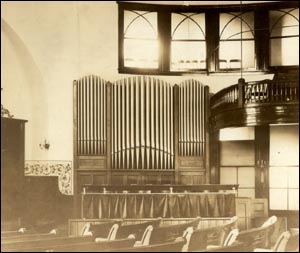 who had apprenticed with the firm. Under his direction the first mechanical and electric action organs were built. During his tenure the firm expanded by incorporating the Newcomer Organ Company, the Roggman Organ Service and the Lent Organ Service companies. Mr. Payne in turn sold the firm to men who had apprenticed at Lewis & Hitchcock – David McCahan, Gerald Piercey and Dave Selby. In November of 2012, long-time employees Richard Alford and DeWitt Long became the new owners. The firm continues to offer quality church organs that can play the literature, through the building of new organs, the rebuilding of existing instruments and quality pipe organ service work.